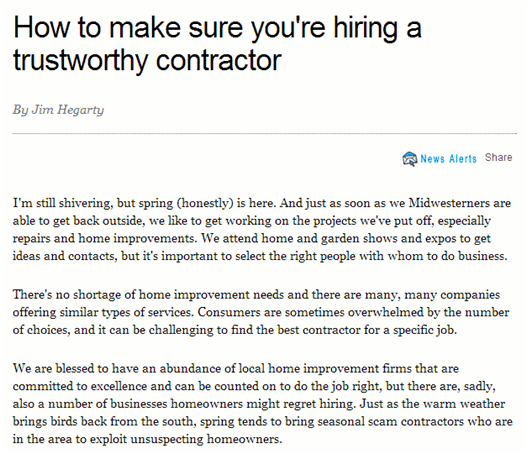 Homeowners in need of siding in Minneapolis will want to learn how to recognize the signs of a reputable contractor in order to ensure that the final results are what were originally promised as well as what the homeowner expects. An article on Omaha.com cites a particular incident that you should watch out for:
"One of our investigators recently shared with me complaint information from seven local consumers who lost more than $80,000 collectively after firms collected large down payments, then didn't complete the work. These initial payouts ranged from $6,000 to $16,000 and, in every case, were well over the maximum portion the BBB advises folks to pay upfront. Most contractors require a down payment before work begins, but it should not be a significant portion of the total cost and the BBB often suggests paying no more than a third of the total project cost prior to the work starting."
One of the best things that homeowners can do for themselves is check the contractor's references to see how past clients liked their work. Not only is this a good way to check the contractor's professional background, it's also a method for homeowners to get an idea of what kind of work they can expect.
Thoroughly reading over the contract is another good idea in order to see what materials will be used in the siding job as well as how much the entire project will cost. If the contractor plans on subcontracting any of the work they perform, it should be noted on the contract in addition to the warranty for any work that is performed.
Two more items that homeowners should be on the lookout for are licenses and insurance. Licenses are a good indication that the siding contractor has the expertise and education necessary to perform the job and insurance lets the homeowner know that the contractor is concerned about safety and security.
Siding in Minneapolis MN should only be completed by reputable contractors who have received a good rating by the Better Business Bureau. Get in touch with the exemplary professionals at Twin Cities Siding Professionals to see what a quality siding contractor can do for you and your home.
(Article Excerpt and Image From: "How to Make Sure You're Hiring a Trustworthy Contractor", Omaha.com, April 7, 2014)