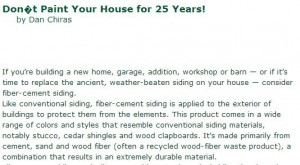 The advent of a fresh year can be sufficient license to make some changes at home– starting with the way it looks. In an article for Green Living Journal, Dan Chiras says:
If you're building a new home, garage, addition, workshop or barn — or if it's time to replace the ancient, weather-beaten siding on your house — consider fiber-cement siding.

Like conventional siding, fiber-cement siding is applied to the exterior of buildings to protect them from the elements. This product comes in a wide range of colors and styles that resemble conventional siding materials, notably stucco, cedar shingles and wood clapboards. It's made primarily from cement, sand and wood fiber (often a recycled wood-fiber waste product), a combination that results in an extremely durable material.
Residents of the Twin Cities area can understand the importance of fiber-cement siding. Some studies have noted that setting them up on your home raises the possibility of reaping an 87% return on investment. If you're a homeowner who wants to embark on a new home-improvement project, you can get things moving through Twin Cities siding contractors like Twin Cities Siding Professionals.
Your preferred contractor will make the effort to educate you on the fundamentals of fiber-cement siding during your consultations. Chiras says there are a number of cardinal points about the material. Their widths range from four inches to twelve inches and are composed of a mixture of cement and cellulose fibers; their material composition also makes them easy to paint.
An inspection of your existing siding will determine if the fiber-cement siding can be installed over them. However, not every existing siding material is compatible; some experts attest that putting it over lap siding is a no-no. If the need arises, consider having the siding removed and have the insulation checked before installation.
Fiber-cement siding from Twin Cities experts like TC Siding is a great investment. Chiras states that their longevity works if you intend to stay for a long time.
(Article Information and Image from Don't Paint your House for 25 Years!, Green Living Journal)