As a homeowner, you'll always want nothing less than a professional job every time you plan a home remodel. In such cases, hiring the right contractor can make all the difference between a job well done and a shoddy project.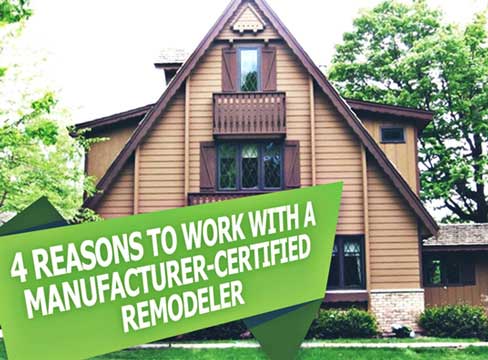 That's why it is crucial that you work with a certified contractor for any remodeling job in your home. These certifications are your assurance that the remodeler will get the job done as precisely and as flawlessly as you'd expect. Let Twin Cities Siding Professionals, the St. Paul siding, experts explain what else you stand to gain from working with a manufacturer-certified remodeler:
1. Skill and Experience
Home remodeling isn't exactly rocket science, but it does take a certain level of genius and industry experience to get the job done to the highest standards. Manufacturers often uphold strict standards when it comes to the use of their products. As such, when you work with certified remodelers, you can be sure that they have all the necessary training, skills, and experience to deliver quality results.
2. Manufacturer Warranties
Warranties protect you from both material and installation defects, but in most cases, they are only valid when you work with a certified contractor. We are proud to offer some of the best warranties in the industry from leading manufacturers such as James Hardie®, Marvin®, and Beechworth™ Windows.
3. High Quality Materials
The materials for the remodel come straight from the manufacturers so you can be sure of quality products that will stand the test of time.
4. Faster Project Completion
A home remodel usually means a slight disruption in your daily routine, so you'll want the job done as swiftly as possible. Thanks to our affiliations with top brands, we have the right tools and training to complete each project quickly without sacrificing quality.
Turn to Twin Cities Siding Professional for your home remodeling needs today. We are the preferred remodeler for James Hardie siding in St. Paul. With us, you'll benefit from our commitment to best installation practices, product knowledge, training, and service.
Learn more about our services by calling us now at 651-571-9557. You can also reach us by filling out our online request form. We will be happy to give you a FREE estimate on your home improvement needs.