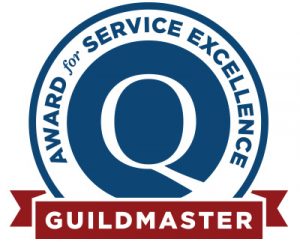 We are honored to have been awarded a 2019 national Guildmaster Award for exceptional customer service in home remodeling, one of only 300 home contractors in the U.S. to receive this prestigious award. This is the 12th year in a row in which we have earned this honor, beginning in 2009.
The Guildmaster Award, which is presented annual by GuildQuality, an independent customer satisfaction survey company, recognizes service excellence in the building, remodeling, contracting, and home services professions. In order to be a Guildmaster Award winner, a contractor must achieve a recommendation rate of 90% from customers.
The Guildmaster Award is unique in that it is based on independently gathered customer feedback. Twin Cities Siding Professionals achieved a recommendation rate of greater than 90% from its customers who were surveyed through GuildQuality, while the average customer recommendation rate for businesses in our industry is approximately 70%.
"The GuildQuality team is excited to honor the 2019 Guildmaster Award winners for their unwavering commitment to customer satisfaction," said Lauren Wallace of GuildQuality. "Since 2005, the Guildmaster Award has recognized companies within GuildQuality's community of quality who consistently deliver exceptional customer experiences."
Our dozen Guildmaster Awards are a tribute to the dedication of our employees, who are committed to making every customer's experience amazing and enjoyable. Want to experience this kind of service for your siding or window replacement project? Give us a call at 651-571-9557.