The siding of St. Paul homes is integral because it helps insulate and protect the home from the harsh elements throughout the year. Moreover, it is also responsible for keeping the water and other debris from entering into the walls and in your home, reducing moisture build-up that could cause mold and mildew.
An article written by Anne Thompson for The Naperville Sun discusses the benefits of installing a James Hardie fiber cement siding for your home: "James Hardie fiber cement siding is a popular choice for today's home renovations because it provides a number of distinctive benefits without breaking the budget."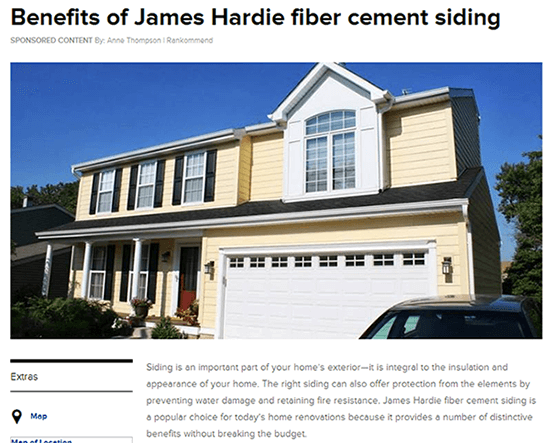 One of the many advantages of a James Hardie fiber cement siding is that it is composed of renewable and non-toxic natural materials that are sustainable. The article adds, "Fiber cement siding is designed to resist [different] types of damage and last for years to come."
More than providing an effective performance to protect the home against the elements, the siding material ensures that homeowners satisfy the primary purpose of installation, which is to improve the appearance:
While durability and longevity may be on the top of your list of needs for home siding, you will still want to invest in a product that looks good too. James Hardie fiber cement siding can offer the appearance of natural wood or vinyl exteriors, but it will outperform these materials against the elements.
The longevity of fiber cement siding reduces the need for homeowners to replace it, resulting in lower replacement costs. Compared to other types of siding, the installation costs are also cheaper, making it a worthy investment. It will make the house look better, improve its curb appeal, and increase the resale value.
Whether you are replacing your siding for a design upgrade, damage repair or for resale purposes, have your fiber cement siding installed by a trusted St. Paul siding company like Twin Cities Siding Professionals. This is a great way to start making your home look better without having to worry about maintenance and performance problems. Fiber cement siding is the most sensible choice for every homeowner that is in search of siding that will provide form and function.
(Article Image and Excerpt from Benefits of James Hardie fiber cement siding, The Naperville Sun)