Twin Cities Siding Professionals Honored with Service Excellence Award from James Hardie®
Based on results of the Guild Quality customer satisfaction survey, Twin Cities Siding Professionals is ranked in the top 10 among James Hardie's 3,500 U.S. siding contractors. That's pretty elite company.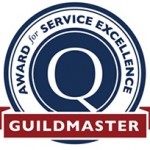 GUILDQUALITY GUILDMASTER AWARD -WITH HIGHEST DISTINCTION- 2008, 2009, 2010, 2011, 2012, 2013, 2014, 2015, 2016, 2017, and 2018.
Each year, GuildQuality gives special recognition to companies that demonstrate the ability to deliver a consistently superior customer service experience. We've won this award every year since 2008. The primary requirement for receiving a Guildmaster Award is exemplary customer service, as demonstrated by an extremely high customer recommendation rate. In the home building and remodeling industry, the average customer recommendation rate for businesses ranges from 50%- 70%. In order to receive a Guildmaster Award, a member must achieve a recommendation rate of 90% or greater. Our recommendation rate is 98.7%!

Twin Cities Wins GuildQuality Service Award
For the fourth time in five years, Twin Cities Siding Professionals has been awarded a GuildQuality Service Excellence Award. Every year GuildQuality reviews thousands of customer reviews of contractors, builders, remodelers, and real estate professionals, awarding a Service Excellence Award to those companies that have garnered the best response and most favorable ratings across the nation. We are thrilled to be on top in the eyes of our customers!
Everybody at Twin Cities Siding Professionals would like to thank all of our customers, past and present, who trust us for contracting services and have given us such rave reviews. Each day we come to work with the goal of exceeding expectations, and with the commitment of our professional staff, we are able to do just that.
Click to read our blog post about the GuildQuality Service Excellence Award and what it means for our company.