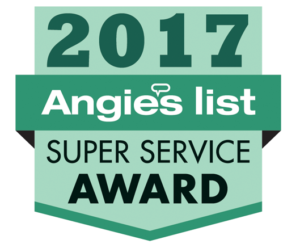 ANGIE'S LIST SUPER SERVICE AWARD
Winner of Angie's List's Super Service Award in 2008, 2009, 2010, 2011, 2012, 2013, 2014, 2015, 2016, and 2017! The Super Service Award is only presented to companies who achieve and maintain a Superior Service Rating on Angies's List.

ANGIE'S LIST Gold BADGE
We are pleased to have been awarded the Gold Badge. The Gold Badge is an additional qualification for Super Service Award Winners who made a further commitment to Angie's List to provide excellent service to members. Thank you Angie's List for the recognition of our efforts to better serve our customers and your members!