The best choices in roofing materials for your Twin Cities home.

You have many choices when it comes to repairing or replacing your home's roof. Your first decision should be to choose Twin Cities Siding Professionals, the Minneapolis/St. Paul roofer who delivers the deepest experience and most responsive service.
We offer you a wide range of roofing options, and are one of the few roofing contractors Minneapolis to provide so many choices in materials for your home. We are happy to meet with you to discuss the benefits of any of these roofing systems.
Asphalt Shingles
Asphalt shingles are the most popular choice for roof coverings in America. The positive aspects of asphalt shingles include low installation and maintenance costs. Roofs made out of these shingles come in different grades. The better the grade, the longer the life expectancy, which can range from 15 to more than 30 years. The asphalt covering is actually a composite made up of either a fiberglass or rag mat with asphalt, which is covered with colored mineral granules. Multi-layered shingles give this otherwise thin material improved dimension making it resemble other, thicker materials. Asphalt shingles also come in a variety of colors and styles. Individual shingles may be replaced if damaged. An additional advantage of asphalt shingles is that in certain circumstances, they can be installed over an existing roof of asphalt shingles, eliminating the need to remove the old roof.
GAF Shingle Options from Twin Cities Siding Professionals
GAF offers three distinct levels of shingle quality and protection, plus a remarkably affordable slate shingle option. We'll help you select the one that is right for your home's design and location.
Three-Tab (3-Tab) Shingles
Affordable basic protection for projects on a limited budget.
Timberline® Lifetime Shingles
Protect and beautify your home with Timberline®, North America's #1-selling shingles. Timberline® shingles now have a lifetime limited warranty!
Designer Lifetime Shingles
Beautiful, stylish, and exceptionally durable, Designer Lifetime shingles will make your home the envy of the neighborhood!
TruSlate™
Affordable, genuine slate roofing.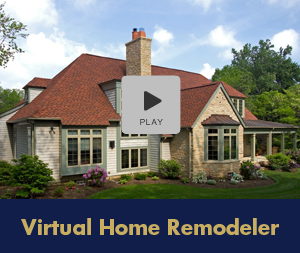 GAF also provides a wide array of shingle styles. Choose the best look for your home at the GAF Shingle Style Guide.
Slate Roofing
This material is extremely durable and graceful, coming in a variety of looks, while offering low maintenance costs. Typical colors are grey, black and red. Like tile, slate carries the onus of extra weight and this high-quality roofing material can be expensive. However a slate roof can last over 100 years with little or no maintenance.
Tile Roofing
Aesthetically, homeowners are drawn to the look, texture and color choices of tile. Styles include mission, rounded and flat. Priced around the same as wood, tile is made of either concrete or clay and normally lasts over 50 years. Although there's little maintenance necessary, the underpinning for your roof must be able to handle the extra weight that tile carries and replacement costs are high.
Wood Shingles & Shakes
Wood roofing, which comes in cedar, red wood and cypress, lasts longer and is more expensive than asphalt. It can last for up to thirty-five years. Many people enjoy it for the natural look it provides. Fire resistant shingles are pressure treated with preservatives are safest and last longest. With age, wood may become brittle or shrink, causing the roof covering to be compromised. Individual shingles may be replaced as needed.
Choosing which type of roof is right for you will depend upon numerous factors, including your budget, taste and needs. Let Twin Cities Siding Professionals help you choose the right roofing material that will deliver the best protection and value.
GET A FREE ROOF INSPECTION AND ASSESSMENT
If you are considering repairing or replacing your roof, your first step should be to call Twin Cities Siding Professionals for a free, no obligation roof inspection and assessment. No contractor can provide an accurate report on your roof from ground level. We will take the time to climb onto your roof and conduct a thorough and comprehensive inspection, then provide you with a written report of our findings to help you make an informed decision.
Find out how we can make your home safer, warmer and more valuable with a quality roofing system. Call Twin Cities Siding Professionals at (651) 967-0873 for a FREE roof inspection, evaluation and estimate.