Icynene® Insulation: For a Healthier, Quieter, More Energy-Efficient Home.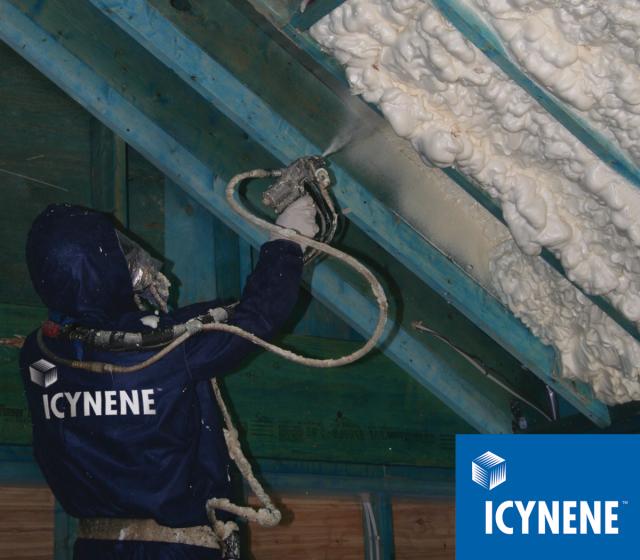 Let Twin Cities Siding Professionals make your home cozier and reduce your monthly energy bills with Icynene® – the most effective insulation system available.
Improving the insulation properties of your attic and walls is one of the best ways to make your home more comfortable while reducing home heating and cooling costs. But traditional insulation methods offer mediocre results, with limited R-value and gaps that allow warm air to escape and cold air to leak in.
That's why Twin Cities Siding Professionals recommends Icynene® spray foam insulation for our Minnesota customers. With Icynene® there are no gaps or leaks, and the closed cell foam delivers superior insulation value. The result is a home that is warmer all winter long, cooler during the hot summer months, and reduced home energy costs every month.
Here are the advantages you will gain when Twin Cities Siding Professionals insulates your home with Icynene® insulation:
Helps reduce energy bills by up to 50%
Insulate and air seal with one easy step
Superior R value insulation and an effective air barrier to stop heat loss and cooling loss
No gaps or cracks that allow energy loss
No more drafts!
Reduce outside noise
Keep out pollutants and allergens
Non-VOC water-based foam insulating material is chemical free, natural, safe and healthy
LEED-certified as renewable and environmentally safe
Better insulated attic space helps eliminate the formation of dangerous ice dams on the roof
How Icynene® Insulation Works
When measuring the effectiveness of insulation, R value is an important factor – but not the only one! Most insulation companies want to tell you about R value because their products do not address the all-important factor of air sealing.
R value measures the ability to limit conductive heat flow. But the primary method of heat transfer is not conductive heat flow. It's air leaking through gaps and cracks in the insulation. Air leakage can account for up to 40% of a building's energy loss, and it cannot be stopped with traditional insulation. That's why an airtight seal is essential for achieving real energy savings.
Icynene spray foam insulation provides insulation R value and air sealing in a single step, saving time and reducing the material needed. This is the only way you will truly receive the most value from your insulation.
Make the Safe, Effective Choice in Home Insulation
Icynene® spray foam insulation products are one-step performance materials which both insulate and air seal for the lifetime of your home. They are guaranteed to perform as specified for the life of your home.
Find out why thousands of homeowners have chosen to insulate their homes with Icynene® spray foam insulation since 1986. Let the home comfort experts of help you decide the best way to air seal and insulate your home with Icynene® today.
Call 651-571-9557 today for a free in-home insulation consultation and estimate.