LICENSED AND INSURED FOR YOUR PROTECTION
When you choose Twin Cities Siding Professionals as your siding contractor, roofer, or window contractor, we are guests in your home. So we take extra care to be sure that we can provide you with peace of mind and assurance that the job will be done right.
WE ARE LICENSED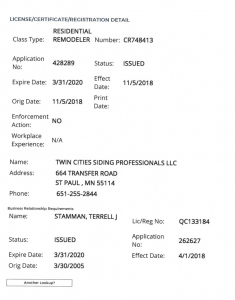 Twin Cities Siding Professionals is fully licensed by the State of Minnesota, assuring you that we are certified to work on your home.
State License #CR748413
WE ARE INSURED
We carry both liability insurance (in case of damage to your home or property) and workers' compensation coverage (in case of injury to one of our employees). We would be happy to provide copies of our insurance certificates to you.
Why is this important? If you choose a contractor who is not insured, and damage or injury occurs on your property, IT becomes YOUR problem. Who needs that?
GET A FREE ESTIMATE!
Learn more about your home's siding, roofing and windows on our website. Then call Twin Cities Siding Professionals at (651) 967-0873 for a FREE in-home evaluation and estimate.