People depend on their homes for protection from storms and blizzards. However, not all disasters are weather related. In the case of one Minneapolis family, a house fire left them homeless just days before Thanksgiving. CBS Minnesota has the full report:

Authorities said a family is displaced and a firefighter suffered minor injuries in an early-morning house fire in northeast Minneapolis.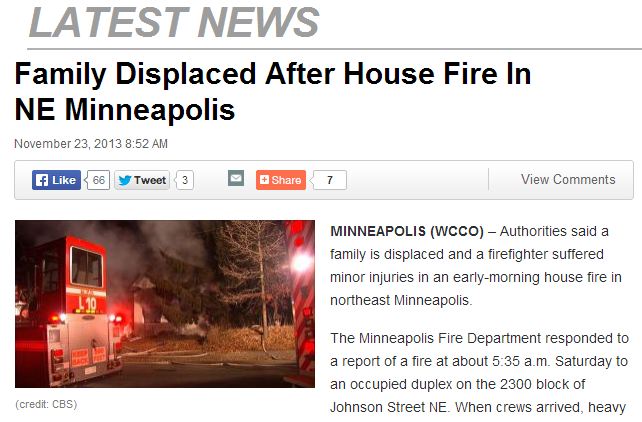 The Minneapolis Fire Department responded to a report of a fire at about 5:35 a.m. Saturday to an occupied duplex on the 2300 block of Johnson Street NE. When crews arrived, heavy fire was showing. Firefighters were able to knock down the exterior portion of the fire before heading inside the residence to put out the rest of the fire and search for victims.
Authorities said two adults and one teen were able to get out before fire crews arrived, authorities said. They got out safely, but the American Red Cross was called into provide assistance.
While authorities are still determining the cause of the fire, things like overloaded electrical wiring, forgotten kitchen appliances, and unmaintained furnaces are all common culprits for house fires. According to the Federal Emergency Management Agency (FEMA), a small flame can become deadly in as little as 30 seconds, and the National Fire Protection Association (NFPA) says that fires cause an average of $20,000 in property damage. Knowing a house fire's destructiveness, homeowners should take precautions to avoid this unfortunate event. Below are a few tips that will help your house become more fire resistant.
Get a Fire Alarm
Given the speed at which fire spreads, having an alarm gives you a fighting chance of putting out the flame before it causes major damage. Of course, fire alarms are not set-and-forget prevention mechanisms. Replace their batteries twice a year and test them once a month using the small button inside.
Coat Furniture with Fireproof Coating
Most furniture items made from wood are highly flammable. If you're getting new ones, ask the store if they can coat the products with fireproof chemicals first. You can also apply fireproofing sprays to your existing furniture.
Install Fiber Cement Siding
With the right material, your siding will not only protect your home from the weather but also from fire. Twin Cities siding contractors like Twin Cities Siding Professionals can install fiber-cement siding, which has the highest flame spread rating possible.
In 2012 alone, the NFPA recorded 365,000 home fires in the country, which caused a staggering $5.7 billion worth of damage. Installing a fire alarm, fireproofing your furniture, and getting fiber cement siding in the Twin Cities area are all steps you can take to protect your beloved home from the ravages of fire.
(Article Excerpt and Image from Family Displaced After House Fire in NE Minneapolis, CBS Minnesota, 23 November 2013)