When it comes to gardens, the right siding-and-plant combination can result in a beautiful exterior that's more than the sum of its parts. Here are our tips on choosing siding and plant combinations.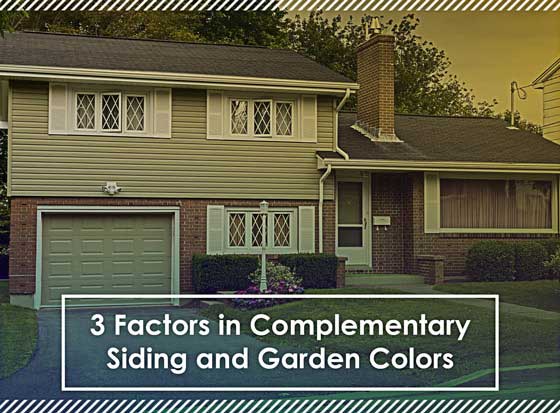 New Siding, Existing Garden
A siding replacement or a full-on exterior remodeling project is more than just enhancing your home's protection against the elements. Think of it as an opportunity to update your exterior color palette. The go-to exterior colors are typically earth tones like green, browns, and beige, as they complement most plant colors.
If you want to try something different, but you are not sure about what color to start with, use the James Hardie® Home Color Tool. It lets you virtually install siding and pick colors, and then combine them with other elements, such as siding and roof. It also lets you choose from James Hardie's wide selection of siding options, from HardiePlank® lap siding to HardieShingle® siding that incorporates the wood-shingle look and texture with the benefits of fiber cement siding.
New Plants, Existing Siding
Between siding replacement and landscaping, the latter is easier in terms of cost. But, the challenge lies in finding plants that match your existing siding. For example, bright-colored siding will often require equally bright flowers, like the Centaurea cyanus (cornflower) or Rudbeckia hirta (black-eyed-Susan). Both are annual plants, meaning they can be expected to bloom annually like clockwork. Some species bloom in different seasons, so consider asking your local horticulturist on which flowering plants will work best for a year-round look.
Creating and Highlighting Focal Points
A good home garden isn't just some random assortment of plants; it has to have a beautiful and functional layout. Taste and style plays a large part in creating color harmony between your garden and home exterior, and makes it easier to decide which focal points can be added, be it a fountain, an arched entry, or even a cupola that matches your siding color. Whatever you eventually decide on adding to your garden, remember that all elements should complement, not overwhelm, each other.
To know more about our products and other services, including roofing and siding repair, call Twin Cities Siding Professionals today at 651-571-9557, or fill out our contact form to schedule a free in-home estimate. We serve many areas in and near the Twin Cities.