At Twin Cities Siding Professionals, we aim to provide the best products and customer service to each and every homeowner we work with. To help keep the quality of service we provide as siding contractors, we maintain affiliations with various civic and professional organizations.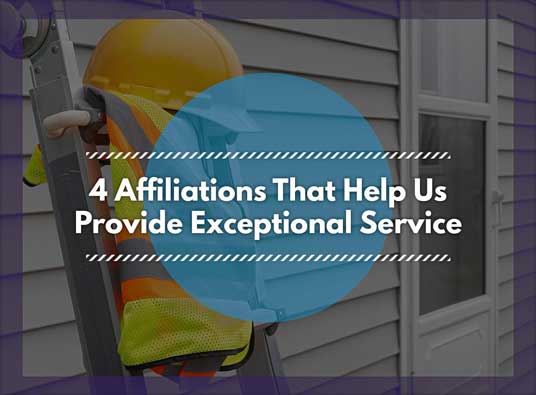 Here are some of the organizations that we work with:
Better Business Bureau – The Better Business Bureau (BBB) is the nation's oldest and most trusted consumer support organization. It still is the most effective in terms of giving homeowners a venue to resolve concerns about a contractor's quality of service. We've been accredited by the BBB since 1999, and we are proud to have maintained an A+ consumer rating since. We have also won the BBB Integrity Award in 2009 and in 2012.

Certified Contractors Network – The Certified Contractors Network (CCN) helps contractors provide the best customer service possible, through a strict Code of Ethics that ensures consistency among all members' service level. Homeowners get resources that let them choose the best siding contractors in the area, we can honestly say that hiring a CCN member is the homeowner's assurance that the contractor will provide quality work, materials, and overall experience.

Minnesota Safety Council – The Minnesota Safety Council was founded in 1928 as a local chapter of the National Safety Council, and functions as a private, non-profit organization focused on safety at home, at work, and just about any other situation where there is potential for injury. Dedicated to preventing unintentional injuries, the Council provides safety-related resources including classes, seminars, and consultations with employers. At Twin Cities Siding Professionals, we work with the Minnesota Safety Council in conducting company safety programs, ensuring compliance with regulations, and disseminating safety practices.

National Association of the Remodeling Industry – Founded in 1935 as The North East Roofing, Siding and Insulation Contractors Association (NERSICA), the National Association of the Remodeling Industry (NARI) now has 52 chapters nationwide, with members in 49 states. NARI helps advance and promote professionalism, product, and vital public purpose in the remodeling industry. Twin Cities Siding Professionals have won the first ever achievement in Consumer Excellence (ACE) Award from NARI's Minnesota chapter, as a recognition of our commitment to quality, responsiveness, and professionalism, among other qualities.
As a siding contractor, our clients ultimately benefit from our membership in these organizations. To know more about our products and remodeling services, call Twin Cities Siding Professionals today at 651-571-9557, or fill out our contact form to schedule a free in-home estimate. We serve many areas in and near Minneapolis.