James Hardie®'s Artisan® lap siding is for homeowners like you who have impeccable taste. Delivering the ultimate in performance and aesthetics, this premium product will lend uncompromising endurance and striking luxury to your home.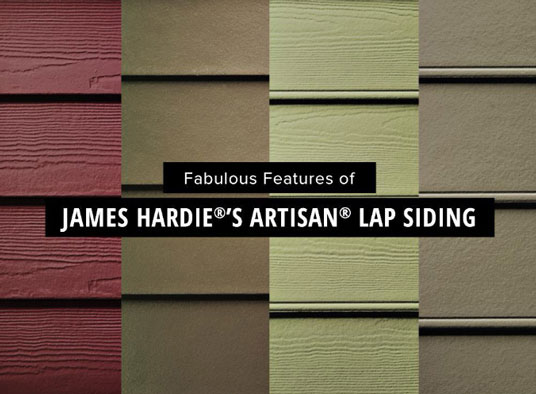 Here are the best features of the Artisan lap siding:
Ultra-Dimensional
Artisan lap siding emulates genuine cedar profiles with deep shadow lines and extra-thick boards. Available in an impressive array of colors, textures and finishes, it's indistinguishable from authentic wood. You want, however, to customize its details. It can come with Artisan Accent Trim to round out its look and highlight its impressive character.
Weather-Resistant
Like any Hardie siding products, Artisan lap siding is designed to stand up to the rigors of nature. It can preserve its stunning appearance whatever the weather brings.
Made from high-performance fiber cement, its unique formulation allows it to resist the detrimental effects of moisture, humidity and mold. It has the ability to withstand the blistering sun, snowstorms, strong winds and cool and wet conditions for a long period. Apart from its immunity to damage from pests and fire, it isn't prone to shrinking with extreme changes in temperature, maintaining its superior dimensional stability.
Low-Maintenance
Artisan lap siding elevates the beauty of wood by inhibiting decay. It makes cleaning easy and reduces the need for constant siding repair. Refusing to fade despite long-term exposure to ultraviolet radiation, expect it to look brand-new for years.
Environmentally Friendly
As a green product, Artisan lap siding isn't made of endangered materials. Rather, it incorporates natural, low-toxicity ingredients. Almost 75% of its raw materials are locally sourced, mitigating the environmental impact of transportation. Since Artisan lap siding can last a lifetime, it's one of the most sustainable siding solutions you can find.
Is this is the right James Hardie product for your siding replacement project? Talk to Twin Cities Siding Professionals to discuss your needs in St. Paul with no obligations required. Call us at 651-571-9557 now to schedule your FREE, in-home consultation.