Having provided quality siding services to Minneapolis-Saint Paul residents since 1995, Twin Cities Siding Professionals has since received accolades from various award-giving bodies in the industry. One that we're most proud of is being a multiple recipient of the BBB Integrity Award. Today, we'll share more about this distinction and the benefits of hiring a contractor with one for your upcoming remodeling project.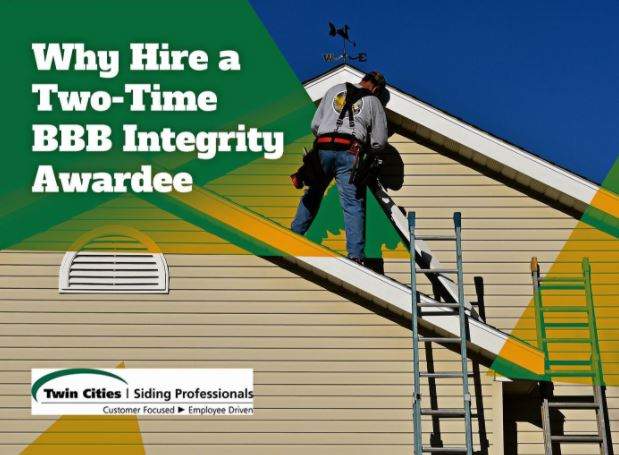 The BBB Integrity Award
The BBB Integrity Award is an annual award presented by the Better Business Bureau®, the nation's oldest and most trusted consumer support organization, to businesses and charities that go above and beyond their service. This "service" applies not only to customers, but also to employees and communities. While other awards in the building industry focus on company growth, profitability and popularity, the Integrity Awards focus on ethical business practices.
At Twin Cities Siding Professionals, we received our first BBB accreditation in 1999 and have since maintained an A+ BBB consumer rating. Having been awarded the BBB Integrity Award in 2009 and again in 2012, this demonstrates our commitment to providing the best service that we can provide. Whether you need minor siding repair or large-scale siding and window replacement project, expect the same high standards of service and that we will not waste your time, money and resources.
Other Awards and Affiliations
In addition to the BBB Integrity Award, we were also a finalist for the 2016 BBB Torch Awards, which recognizes companies who exemplify ethical behavior and integrity in all aspects of their operations, including dealings with customers, employees and vendors.
We are a proud member of the Certified Contractors Network (CCN), an organization that aims to help contractors provide the best possible customer service. The CCN adheres to a strict code of ethics to ensure consistent service between all members. We also work with the Minnesota Safety Council, a private, non-profit organization that promotes home and workplace safety practices through classes, seminars and employer consultations. We provide assistance to their programs by extending our resources for disseminating safety practices, conducting safety programs within the company and making sure that all our projects comply with safety regulations.
To learn more about our products and services, including James Hardie® siding, call Twin Cities Siding Professionals today at 651-571-9557. We serve many areas in and near St. Paul.