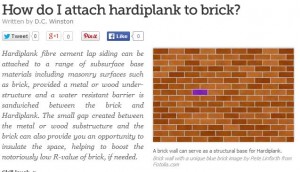 Brick houses are aplenty in the US and sometimes you can jazz them up. An article by DC Winston reads:
Hardiplank fibre cement lap siding can be attached to a range of subsurface base materials including masonry surfaces such as brick, provided a metal or wood under-structure and a water resistant barrier is sandwiched between the brick and Hardiplank. The small gap created between the metal or wood substructure and the brick can also provide you an opportunity to insulate the space, helping to boost the notoriously low R-value of brick, if needed.
The versatility of fiber-cement siding may entice owners of brick houses in Minnesota to do the same. The Land of 10,000 Lakes has a modest number of brick-laid structures from a bygone age; you might even be watching a movie at a modernized cinema that was built during your grandparents' time. If you do own a brick house and are interested in decking it out in fiber-cement siding, consider requesting the siding installation through Minneapolis contractors such as those from Twin Cities Siding Professionals.
It is not a good idea to run wild with the amount of material needed for covering the house. Some experts suggest measuring each side's overall area, dividing them into squares, and measuring each square's height and length. If there are windows, measure their dimensions and subtract from the overall area. Your Minneapolis James Hardie siding contractor may help you figure how much plank you need and quote you on them.
When pushing ahead with the installation job, the contractor will install a system of furring strips on the brick layer through masonry fasteners. Winston says the intervals may range between 16 inches to 24 inches and the appropriate distance will prevent warps in the siding. Your contractor may also recommend setting up insulation as added buffer between the siding and the bricks before installing the planks themselves.
A contractor like Twin Cities will expedite every option to ensure the siding are a snug fit over the bricks. It certainly helps add to the bricks protection.
(Article Information and Image from How do I attach hardiplank to brick?, EHow)