Siding is a very useful component that can add protection and enhance your home's curb appeal. Twin Cities Siding Professionals presents the features and benefits of fiber cement siding, one of the best materials available on the market today.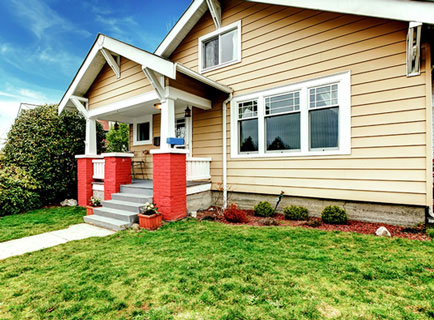 Fiber Cement Siding from James Hardie®
Twin Cities Siding Professionals offers only James Hardie fiber cement siding, the top siding brand in the industry. For over 100 years, James Hardie has been developing products for every home's needs. Due to their continuous innovations, they've come up with fiber cement siding that suits every region in the US.
Benefits of Fiber Cement Siding
As your trusted siding contractors in Minneapolis, Twin Cities Siding Professionals cares for your home. That's why we offer only the top products from the leading manufacturers. Here are just some of the benefits that you get when we install James Hardie fiber cement siding.
Durability. James Hardie fiber cement siding is designed to withstand the harsh elements. It is ideal for the brutal winters and strong winds that we sometimes experience. It will not warp or crack and it will keep its shape for a long time. The HardieZone® system ensures that all James Hardie siding is specifically engineered to stand up to the climate of each region. James Hardie has classified the US regions into 10 zones and divided their products into HZ5™ and HZ10™ categories. For Minnesota, we suggest HZ5 siding products that will withstand humid summers and cold, windy winters.
Water-resistant. Fiber cement can protect your home from water damage better than wood siding. This keeps your home healthy and protected from mold growth.
Low maintenance. James Hardie fiber cement's colors don't fade. It is also highly durable against various weather conditions. You can be sure of maintenance-free and stylish siding for years to come because of James Hardie's ColorPlus® This paint is designed specifically for fiber cement and will not fade over time. You can choose from a wide range of colors that's certain to enhance any architectural style.
Energy-efficient. Fiber cement has excellent insulating properties. With the HardieWrap® weather barrier, your siding will resist air penetration better than other siding products.
Additional value. Installing fiber cement siding can recoup up to 84.3% of your investment, according to Remodeling magazine's "2015 Cost vs. Value Report." With superior quality and protection, you can be sure that your siding will last a long time.
Among the many Minneapolis siding contractors, Twin Cities Siding Professionals is the preferred installer of James Hardie siding. We also install HardiePlank™, HardieShingle®, Artisan®, and HardiePanel® siding. If you want to check out our other color options, you can browse through them here.
Schedule your free in-home consultation today by calling us at 651-571-9557. We will be happy to provide you with other useful information about our siding products.