Siding installation is a tough job, and if you want to get it done right, then you have to choose the right siding contractors. A quick Google search will probably return hundreds of options to mull over, but weeding out the best ones will take hard work and maybe just a little bit of good luck.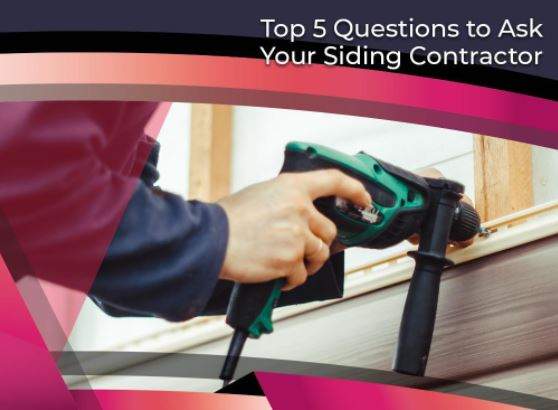 Here are the top five questions that will help you separate the excellent ones from the bad.
1. How Long Have You Been in Business?
This is a simple question, but it will tell you a lot about your soon-to-be siding contractor. Asking about their business background will show you that, at the very least, you're dealing with an experienced and reputable company. Use this question as a prelude to other questions, such as "Where is your physical office located?" and "Can I see some testimonials of satisfied customers?"
2. Do You Have Liability and Workers' Compensation Insurance?
This is due diligence on your part. Making sure they have all necessary licenses, certificates of insurance, permits and all manner of paperwork will ensure that the job will go as smoothly as you want it.
3. Do You Use Sub-Contractors?
Ask if the company subcontracts out any part of its work, about who performs the job and who is responsible for the project. Some companies may use subcontractors, and this is not necessarily a bad thing. But, having a direct connection to the company can never hurt.
4. How Do You Handle Customer Complaints?
This doesn't mean that you're expecting to complain even before the contract is signed, but knowing the correct avenues for addressing grievances in the future is handy. Besides, if a company has no reliable way of handling complaints, what does that say about the company itself?
5. What Warranties Do You Carry?
Lastly, it's important to know about warranties and how they are handled. Knowing this beforehand will give you a good idea about your choice of siding contractors.
We know how important doing quality work is. Give Twin Cities Siding Professionals a call at 651-571-9557, and ask us these questions today. We serve Minneapolis and all nearby areas.