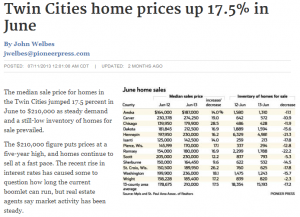 Whether residents from either of the Twin Cities like it or not, the medial sale price of homes in both cities has risen by 17.5 percent this June to reflect the current situation of steady demand and insufficient residential properties available in the area. This development is a far cry from headlines only two years ago, when housing reports on Minneapolis, St. Paul and the rest of Midwest cities have gathered nothing but negative outlook from industry experts.
This gradual growth of the region since 2012 highlighted its first successful story with three Midwestern metropolitan areas of Chicago, Milwaukee, and the Twin Cities placed third, fifth, and eighth respectively on the top 50 major real estate metro markets with the highest gains from Clear Capital. For many homeowners who are looking into profiting from this upsurge, the cities' most trusted home improvement contractors such as Twin Cities Siding Professionals can assist in adding even more value to their homes through an array of home upgrading projects.
Upgrading a house feels much more worthwhile, however, if you're staying in your renovated house to enjoy the improvements. For many Twin Cities residents, there's really not a lot of other reasons aside from cold Minnesota winters to leave the place. The Twin Cities, as well as the state in its entirety are constantly cited in magazines such as Children's Health and Familiy Living as one of the top places to raise children.
On Parenting.com, Minneapolis and St. Paul combined rank fourth in the U.S. and first in the Midwest. The magazine cited the cities' extensive park systems, recreational activities for kids, and strong programs for sports and education as good things both parents and children to look forward to should they move.
Insulation is one of the most important aspects of home improvement that Minnesotans should not neglect, and as far as insulation materials go, spray foam insulation techniques are one of the most effective ways to stop air leakage. Spray foam products like Icynene, which are applied by contractors like Twin Cities Siding Professionals, help homes in maintaining their temperatures so their heating and air conditioning systems wouldn't have to work as hard in providing comfortable room temperatures.
Another area homeowners might want to consider redoing is their sidings; since sidings cover the largest area in home exteriors, their improvement gives a house a big upgrade in curb appeal. Durable siding in Twin Cities is necessary due to its extremely cold winter weather. For this reason, a fiber cement siding is the most appropriate for Minneapolis and St. Paul homes. James Hardie, a pioneer and esteemed name in fiber cement siding products, have sidings specifically designed with a Midwestern climate in mind.
In the end, regardless of what one does after a renovation, it's hard to dispute that upgrading a home with projects that make it a more comfortable place to live in raises its overall value as an abode.