Made from Portland cement, wood pulp and water, along with fillers, fiber cement has been dubbed as the wonder material in the siding world. Looking like wood but weathering like concrete, it offers an excellent trade-off among beauty, durability and affordability.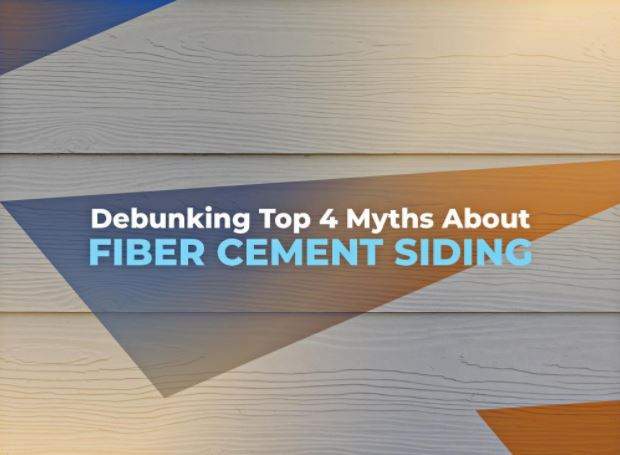 Although its market share has steadily increased since the 1990s, it would be more popular now if only most homeowners truly could appreciate its value. To help you understand what this siding option actually brings to the table, Twin Cities Siding Professionals debunks the common misconceptions about it:
1. It Is Everlasting
Many contractors recklessly claim fiber cement can last forever, which, of course, sounds and is too good to be true. The reality is its life span has an end, as with any siding material that exists. But if you choose a high-quality product like James Hardie®, you can invest in a long-lasting siding system.
2. It Is Maintenance-Free
Fiber cement is tough enough not to merit frequent siding repair jobs. While it can be primed and ready for field painting, it can be pre-coated with a durable finish. The pre-coated version is more resistant to peeling, chipping, cracking and even fading because the finish application was done in a controlled environment.
That said, it doesn't mean pre-coated fiber cement siding panels never need any kind of maintenance. You'll still need to clean them properly once and a while. But, the level of upkeep of pre-coated fiber cement siding is significantly minimal.
3. It Contains Asbestos
This was true until the late 1980s. Today, leading products, including Hardie siding, no longer contain any asbestos particles.
4. It Lends Itself to DIY
You can install fiber cement siding panels yourself, but you shouldn't. They're quite heavy – about two and a half pounds per square foot – and can break if mishandled. Plus, fiber cement siding installation requires specialized tools only experienced professionals can wield efficiently and safely.
Harness the benefits of fiber cement siding with Twin Cities Siding Professionals. With more than 1,500 James Hardie jobs completed to date, our company is the most qualified to handle your project. Call us at 651-571-9557 today to schedule your FREE, in-home estimate in St. Paul, and tell us about your needs.