No roof is complete without a gutter system.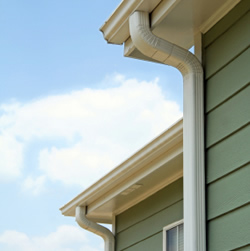 To fully protect your Minneapolis/St. Paul home and the surrounding terrain, the water landing on your roof in the form of rain, ice or snow must be conducted away from the structure. Without gutters, water and ice will wear away your siding, windows, lower roofs, foundation, landscaping — anything in the path of cascading water in all forms.
A roof from Twin Cities Siding Professionals does a great job of keeping rainwater out of your home. But the job is not finished unless we install an equally efficient gutter system to carry the water safely away from your home. A properly functioning gutter and downspout system is essential to keep water from entering your home and possibly causing flooding and structural damage.
Gutters can be either exterior (hung outside the roof edge) or interior (built into the roof), and are generally constructed of galvanized steel, aluminum or copper. Gutters and downspouts must be the right size to accommodate the expected volume of water without filling up and overflowing, all while looking proportional to your home.
Twin Cities Professional Siding provides complete gutter services, including:
Inspection
Adjustment
Replacement
Gutter Cover Systems
Downspouts
GET A FREE GUTTER ESTIMATE
Call Twin Cities Siding Professionals for a free, no obligation estimate on the repair or replacement of your gutters Minneapolis/St. Paul.
Find out how we can make your home safer, warmer and more valuable with a quality roofing system. Call Twin Cities Siding Professionals at (651) 967-0873 for a FREE roof inspection, evaluation and estimate.