About Fiber Cement Siding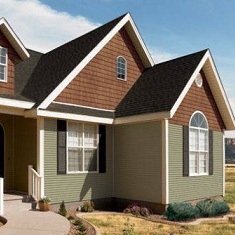 If you want the look of wood siding without the maintenance and costs associated with it, fiber cement siding is a great alternative. Fiber cement siding is composed of cement, sand, and cellulose fiber, giving it tremendous strength and dimensional stability. This makes fiber cement siding unsurpassed in its ability to stand up to the elements, including wind, rain, snow, ice and sun. Its strength, beauty and durability combine to make fiber cement siding simply the best siding for enhancing and protecting homes.
Among its other attributes, fiber cement siding:
Is ideal for cold, windy climates – Fiber cement siding holds up against the effects of temperature swings in cold weather climates. Unlike vinyl or wood-based materials, fiber cement siding resists cracking and warping. Fiber cement siding can even be installed to withstand hurricane-force winds.
Stands up in wet, humid climates – Fiber cement siding resists rotting and cracking, even in extremely damp climates. Unlike other siding materials, fiber cement siding does not expand and shrink under wet conditions.
Resists impact damage – Fiber cement siding is much thicker than vinyl siding. This thickness, along with the inherent strength of its materials, makes fiber cement siding strong enough to resist impact damage caused by rain and hail.
Is fire resistant– Fiber cement siding is non-combustible and achieves the highest possible flame spread rating. Fiber cement siding is approved for fire-rated construction.
Resists moisture damage – rotting, cracking, warping, buckling, swelling, and delamination.
Resists insect damage – Although it looks like wood it is not, so fiber cement siding resists damage from termites and other wood-eating insects.
GET A FREE SIDING ESTIMATE!
Find out how we can make your home safer, warmer and more valuable with James Hardie Siding. Call Twin Cities Siding Professionals at (651) 967-0873 for a FREE in-home evaluation and estimate.