In an article for thisoldhouse.com, Sal Vaglica writes about the many benefits of fiber-cement siding. Vaglica points out that with this material, you can expect to get good looks, durability, maintenance, and affordability. Except for vinyl, fiber-cement siding is less expensive than any other siding material in the market.
According to Vaglica, fiber-cement siding is made up of just four basic ingredients. These are "water, which dissolves the wood pulp and activates and hardens the cement; wood pulp, which improves flexibility and resilience; fly ash, which acts as a filler (some makers use silica sand instead); and portland cement, which binds the ingredients and is made with limestone, clay and iron." This makeup allows fiber-cement to mimic the look of painted wood clapboards, shingles, stone, and brick.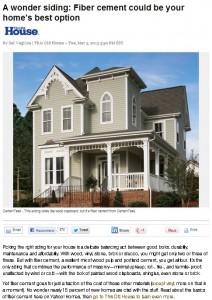 The durability of fiber-cement siding makes it ideal for any kind of weather. It is strong enough to withstand the very cold and icy weather that often hits northern areas like Minneapolis and is not expected to crack even through several freeze-thaw cycles. Minneapolis residents who are looking for the right kind of siding would do well to get in touch with reputable Minneapolis siding contractors, particularly those who specialize in fiber-cement siding, like Twin Cities Siding Professionals.
Due to its weight and tendency to crack when mishandled, fiber-cement siding is best installed by professionals. Likewise, the installation of this material requires special cutting tools and precise measurements. Fiber-cement sidings are finished through painting and/or staining; you can either get finished pieces from the manufacturer, or have the finishing done after installation.
A reputable Minneapolis siding contractor may also offer other siding varieties, including vinyl. Vinyl sidings have their own advantages, including lower cost, durability, and easy maintenance. However, vinyl can melt in fires and may be blown off by high winds, whereas fiber-cement sidings are highly resistant to both fire and strong winds.
With the many benefits it offers, fiber-cement could very well be the ideal siding material for most Minnesota homes. Warranty coverage may vary by contractor, but such a product can be expected to last for around 25 years. If you wish to find out more about this "wonder siding", you may want to get in touch with specialists such as Twin Cities Siding Professionals.